Steps For Students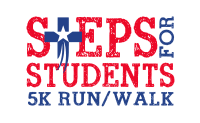 Steps for Students raises awareness and support for Catholic Education within the Archdiocese of Galveston-Houston. Open to the public and located in downtown Houston, walkers/runners enjoy fellowship and a fabulous view of the beautiful architecture and diversity of Houston. All proceeds go directly the designated campus. Come join the Catholic School communities in our annual 5K walk/run each February.
Click
HERE
to register for the St. Mary Catholic School team and/or to make a donation!
Registered students will participate in a COLOR WALK
Registration Categories
Virtual 5K-$20 (receive a t-shirt, race bib and medal)
Hit the Snooze-$18 (registrants have the option to receive a race t-shirt)
Must complete an online registration per student to qualify for incentives.
Go to steps4students.org to register
Steps for Student 5K
The Steps for Students 5K is on Saturday February 20, 2021 to Saturday March 6, 2021. It includes the following events: Virtual 5K and Hit the Snooze for Students.
Don't forget to click our school name at registration.
The entire family CAN register not just students.
Class with 100% Registration earns…..
Class Party, Jean Day
2020-2021
School Wide Incentives:
Each time we reach a goal, the school earns an incentive. Dates TBD:
$1,000– Jeans Day

$2,500– Crazy Hair

$5,000– Favorite Sports Team Jersey

$10,000– Super hero Day

$15,000– Free Dress for a week
Individual Student Incentives:
Raise $25 – Will receive an ice cream pass
Raise $50– Will get a Free Dress Pass
Raise $100– Will get invited to a Movie and can wear Pajamas.
Raise $200– Will get to participate in an Ice Cream Sundae Party and Open Gym afterschool