Steps For Students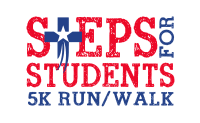 Steps for Students raises awareness and support for Catholic Education within the Archdiocese of Galveston-Houston. Open to the public and located in downtown Houston, walkers/runners enjoy fellowship and a fabulous view of the beautiful architecture and diversity of Houston. All proceeds go directly the designated campus. Come join the Catholic School communities in our annual 5K walk/run each February.
Good morning,
Steps for Student registration opened on Friday. For those that don't know, this is a big fundraiser that all the Catholic Schools participate in. This year it is back in person on February 12, 2022 at the Co-Cathedral, we will do our big celebration on Monday, February 14. All of the funds raised come back to the school. The first 1000 people to register can register at a discounted rate. You can register for the 5K timed, 5K untimed or Hit Snooze.
Email me if you have any questions.
Ms. Bianca De Leon
PE Teacher/Athletic Director
St. Mary Catholic School
Click
HERE
to register for the St. Mary Catholic School team and/or to make a donation!
Colorwalk permission form
Registered students will participate in a COLOR WALK at the school
Registration Categories

Run, Walk, Stroll to a 5K (timed) - $15
Run, Walk, Stroll to a 5K (untimed) - $15
Family Fun Run (Same Run Shorter Fun)- $15
Hit the Snooze for Students (Gain without the Pain) - $15

Must complete an online registration per student to qualify for incentives.
Steps for Student 5K
The Steps for Students 5K is on Saturday February 12, 2022. It includes the following events: Virtual 5K and Hit the Snooze for Students.
Don't forget to click our school name at registration.
The entire family CAN register not just students.
Class with 100% Registration earns…..
Class Party, Jean Day
2021-2022
School Wide Incentives:
Each time we reach a goal, the school earns an incentive. TBD:
Individual Student Incentives: TBD